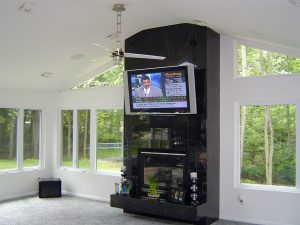 How would you like to experience all that a movie theater offers in your own home? What if you could watch a mirror TV in your master bathroom as you get ready for work? If you've been considering a TV wall mount installation or looking for new possibilities in home entertainment installation, look no further. Home Theater Connection has been transforming homes in Rumson NJ for over 20 years, setting the standard for quality and technology along the way. When you want cutting-edge designs, automation and new levels of convenience, we've got you covered.
Start Creating Your Home Theater with TV Wall Mount Installation
With a reputation for unmatched customer service and innovation, Home Theater Connection can bring your vision to life in Rumson NJ. We provide the best home theater system in the industry, from the design and installation of complete media rooms to outdoor home entertainment installation. If you've been imagining what you could do with home automation and enhanced communications, we're here to make it possible.
If you've searched for "home theater installation near me," you've found a partner you can trust for TV wall mount installation and home entertainment installation. Isn't it time you experienced what industry-leading technology and innovative design can do for you? If you're in the Rumson NJ area and want to transform your lifestyle, call Home Theater Connection today at 732-591-8080.