Welcome to Home Theatre Connection:Prestigious Home Theater Design of New Jersey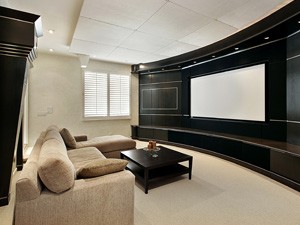 Home Theatre Connection is your home theater New Jersey resource for quality living. We are a home theater company that provides high end home and business design solutions for your automation, entertainment, network and security needs. From comfort to pleasure to peace of mind, we've got you covered.
We are located in Morganville NJ, providing customers throughout central NJ with cutting edge home innovation resources. With over 20 years of experience combined with an above-and-beyond attitude towards customer service, we'll help you conceptualize your dream, and then make it a reality with our elite groups of home theater installers.
Home Theater Connection Offers Innovating Backyard Movie Theater Design
From designing and installing full-scale media rooms and home theaters to outdoor entertainment or poolside options, we've got your entertainment needs covered. Want a mirror TV in your bathroom to watch the news on as you get ready for work? No problem. Perhaps it's time for surround sound or video on your outdoor patio. Sounds great! Why not install an inflatable outdoor movie screen to add to your summertime family fun? With our backyard movie theater system you will finally have the backyard oasis you've always dreamed of!
Whether you host parties and want to have state of the art optimized sound and video or just want your home to be comfortable for a Sunday night family gathering, Home Theatre Connection can help with our magnificent home theater design and our flawless home theater installer's techniques.
Our business automation, networking and security services bring you the efficiency and peace of mind to conduct yourself with confidence. We combine state of the art equipment with cost saving design resources to make you work impressive and cutting edge.
Welcome to Control 4 automation.
Have you dreamed of making life more convenient and pleasurable? Welcome to Control 4 automation, where you have your entire home or business functions just a click away by your laptop or mobile device. With the help of our home theater installers, have full control of your home or business at the tip of your fingers, from anywhere in the world. Forgot to turn down the heat or set your alarm system? No problem. It's only a click away from the convenience of your iPad or smartphone.
Excellent customer satisfaction. Always.
No matter how complex or simple your proposed project, we'd love to make it a reality for you.
Contact Home Theatre Connection directly at 732-591-8080, and we will help you plan your backyard movie theater or in-home movie theater project from start to finish.