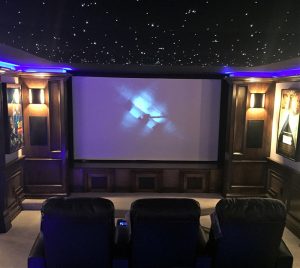 Imagine how much more you would love your home if it were a smart home. Picture the possibilities that home design technology could provide, creating a completely custom home theater experience. With HTC's complete home theater systems, we can bring your vision to life. Not sure of your options? Here's a taste of our smart home design technology.
Design Your Custom Sonos Home Theater
We've partnered with the highest-quality media companies like Sonos to design and install the best-performing complete home theater systems. Check out some of our most popular enhancements:
Multiple-screen video setup with surround sound audio
Smart home automation for audio, visual, lighting, and security control
Electronics-savvy furniture design
Small-space installation solutions
Hidden video displays
WiFi range extension
If you can imagine it, we can create it. Your Sonos home theater will be covered from design to installation—and we can make it happen on any budget.
If you live in Monmouth County or the surrounding area and want to see what smart home design technology can do for you, contact Home Theatre Connection today at 732-591-8080.