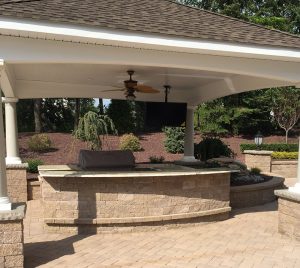 If you want the full home theater system experience, an outdoor media room is a must. At Home Theatre Connection, we know what it takes to extend the entertainment to your outdoor space in a way that blends seamlessly with your lifestyle. Whether it's enjoying a backyard movie with the family or a way to keep the summer party going, we've got you covered.
Your Source for Sonos Home Theater Setups
Imagine the outdoor media room of your dreams, in the comfort of your Monmouth County, N.J. backyard. Now make it a reality! Home Theatre Connection specializes in outdoor audio and visual entertainment, offering a full home theater system that's sure to keep things exciting day or night. Using the highest-quality equipment from the most innovative companies like Sonos home theater setups, we focus on designing and installing a customized outdoor living experience that meets your unique needs.
Creating the Perfect Backyard Movie and Music Environment
Home Theatre Connection has provided outdoor media room with surround sound design and installation in Monmouth County, NJ, for years, making us the trusted source. Now is the time to enhance your backyard with our Sonos home theater setups and experience outdoor living at its finest.
For more information on our outdoor media room design and installation services, call us at 732-591-8080.