The Ultimate Home Media Experience from the Media Room Installation Experts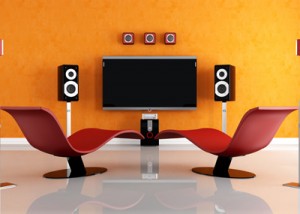 It's time to take your home to the next level. We offer the perfect remedy, with home theater solutions that will leave all your entertainment literally at your fingertips. Through a state of the art media room setup, we'll help you create the entertainment playground of your dreams. Technology has come a long way in a short time, meaning a home theater contractor can help you budget and a state-of-the-art home entertainment set-up.
Home Theatre Connection will help you design a media room, or an entire home media experience, to fit your lifestyle and personal taste. Our team of professionals ensures your media room setup is conducted properly and calibrated for your unique optimal audio and visual experience. During your media room installation, we will also teach you to use your system to its fullest capability.
Let us make your home a dream entertainment destination.
Home Theatre Connection : We Have Your Home Theater Solutions
Imagine having a multiple-screen video setup with surround sound audio that leaves your room open and expansive. This is simple with perforated and woven screen displays that hide your speakers from view; just one of many home theater solutions for your home. Our media room installation team can also minimize space usage with small flat panel displays and electronics-savvy furniture design. Do you have a small or multi-use room and still want a huge screen to watch movies on? No Problem, our media room setup professionals are highly experienced in small-space installation solutions. We have motorized screen options which enable you to hide the video display when you're done using it, just ask our helpful home theater contractor, and they can easily show you how to operate this portion of your system.
Our media room installation team has designed everything from complex multi-room setups with hidden and discrete technology, outdoor entertainment options, to simple yet high quality media rooms that make you feel on top of your world. Control sound volume and location from anywhere in your home or right from the palm of your hand with a mobile device. Implement an indoor and outdoor surround sound stereo system that is easily controlled from anywhere. Have all of your music easily accessible from one place on a multimedia server.
We have options suitable for small family gatherings or large scale entertaining. The sky is the limit to what our professional home theater contractor can design and implement for you; whatever you can imagine, we can make a reality.
Call us today at 732-591-8080, and allow us to get started on your media room setup immediately!
Take a look through our portfolio and contact us for directly for a customized quote.